The development of the world of E-Money is growing, where crypto is now one of the most popular digital currencies. Not to forget, Microsoft finally officially released their own crypto wallet through Edge Chromium, Monday (20/03).
Today interesting news came from Microsoft, where now users will soon get access to a crypto wallet that can be used through Microsoft Edge Chromium. This information is not shown directly by Microsoft, but through Albacore.
"Newest in the gauntlet of questionable upcoming Microsoft Edge features, a crypto wallet Not really sure how to feel about this kind of thing being baked into the default browser, what are your thoughts?" wrote Albacore.
They also fully provide other information via screenshots, as follows:
The images they shared show that Microsoft is starting to introduce a new feature they named Crypto Wallet, a feature that allows users to better store their cryptocurrencies. The company also explained that they will provide secure protection without the need to use extensions, so that interactions on the web can run more smoothly.
Most likely not all Edge Chromium users can currently access features that are now quite popular, because the company only releases this Crypto Wallet for a small number of users because it is only a trial feature.
Other news began to blow, which according to rumors circulating this new project is a secret project from Microsoft. Therefore, it is not surprising that we currently only get a little information, but according to the information shared by Albacore, we know that later there will be a number of features in it.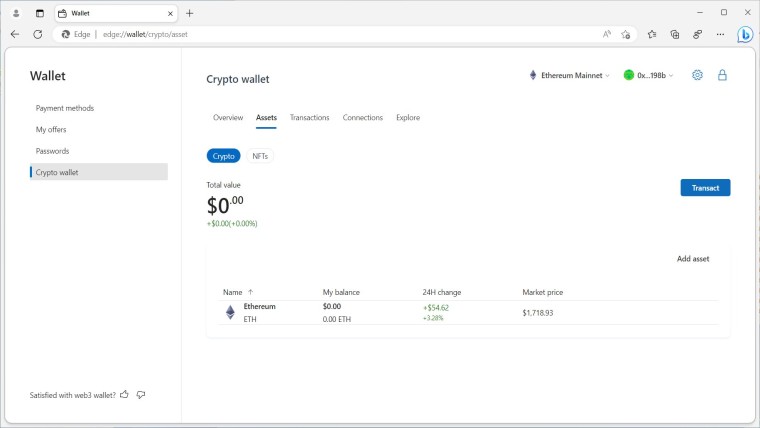 It looks like the picture above, that later this feature will have a number of services such as a list of transactions through History, any connected applications, Tab Explorer, NFT to Watchlist. Pretty complete, right? History is certainly the main feature, because it will be a recorder of all transactions you have.
What do you think? Crypto is indeed a popular currency, because it is predicted to be a currency that will be legalized in the next few years. Although many economic experts refute, it is undeniable that its popularity is in demand.