Mozilla is now following Edge and Chrome which released their version 111 as the latest version, the company also added some quite interesting features and one of them is the Windows Native Notification feature which is present in Windows 11, Thursday (16/03).
Mozilla has now released their latest update for Mozilla Firefox version 111 users, this update certainly not only brings an empty update but also brings Manifest support and also new features. Reportedly said that this update is as part of Manifest V3 support which will be released this year.
One of the improvements provided by Mozilla is the support for Windows Native Notification which was released in Firefox 111 Windows 11. Through this feature, Mozilla users will get a number of notifications that appear directly through Windows Notification.
This will certainly provide better support for those who always use social media access in Mozilla Firefox, so that later they will get a number of notifications directly on their Windows 11 system.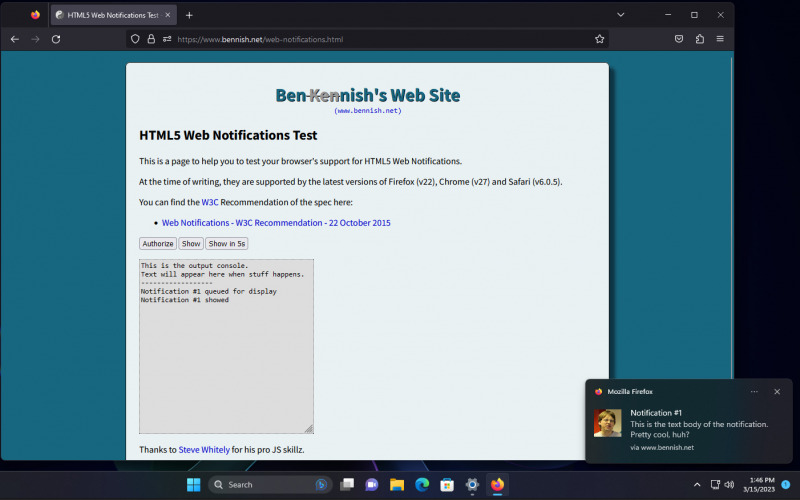 Several new features have also been written by Mozilla through its official website, including the following:
Windows native notifications are now enabled.
Firefox Relay users can now opt-in to create Relay email masks directly from the Firefox credential manager. You must be signed in with your Firefox Account.
We've added two new locales: Silhe Friulian (fur) and Sardinian (sc).
It can be seen, that there are other features such as Firefox Relay which has now given access to the Relay Email Mask directly from the Firefox Credential Manager by having logged in Firefox before.
Mozilla also provided improvements to their security system, which led to high memory usage and bugs, now fixed in Firefox 111.
"Mozilla developers and community members Calixte Denizet, Gabriele Svelto, Andrew McCreight, and the Mozilla Fuzzing Team reported memory safety bugs present in Firefox 110. Some of these bugs showed evidence of memory corruption and we presume that with enough effort some of these could have been exploited to run arbitrary code."