Some time ago, Microsoft had announced that they will soon release the latest update for Teams users, which will present a feature to turn objects into Avatars. Presumably, Microsoft is back again by releasing a new feature in Teams, Wednesday (05/04).
Good news for those of you who use Microsoft Teams services, because now they will again provide support for new features that will maximize the performance of Teams. After they provided new improvements from Teams that were released yesterday, Microsoft is again bringing the Green Screen feature in Teams.
"Green screen improves the sharpness and definition of the virtual background effect around your face, head, ears, and hair. It also allows you to show a prop or other object in your hand to be more visible to other meeting participants." Microsoft explained.
To be clear, the Green Screen feature in question will allow users to change the back screen of a video call into an image of their choosing without the need to use Green Screen material in physical form. Here's what it looks like: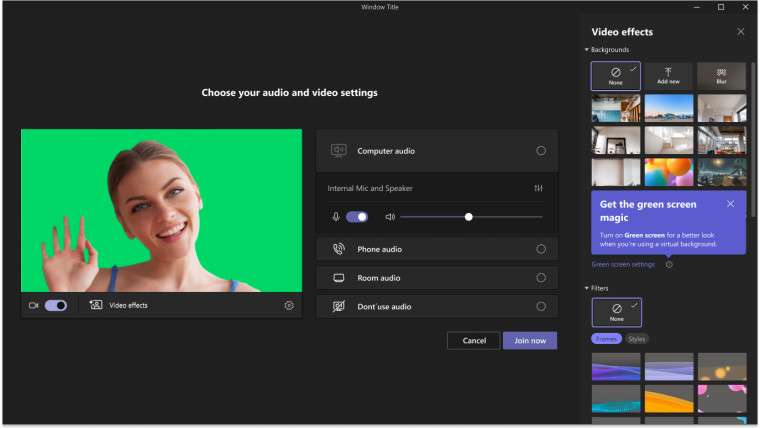 However, unfortunately for those who use processors other than Intel will not get support for this feature. Somehow Microsoft only provides support for this feature in Intel only, the company claims that this will provide a more solid display.
This feature has been released for those who use the Teams Preview version, there are several features that can be used through this Green Screen including Video Effects. This feature allows users to choose some interesting effects that are present in Teams. In addition, to use this feature, you can follow the steps below:
After joining the meeting room, click
Select Toolbar, Video Effects.
Select Green Screen Settings.
Look in the Green Screen Toggle section, select Teams Settings, Device and Green Screen.
Click the Backdrop icon and hover over the Preview Box so you can choose a background color later.
Back to
If you are a Teams Preview user and find some performance issues in Teams, then it's only natural because this feature is still in the further development stage before finally being released in the stable version.